6 Style Tips for Wearing Palazzo Pants
Have you noticed that more women are wearing those trendy wide-leg pants? They are called Palazzo pants, which became popular in the 60s and 70s but they are now making a big comeback in the fashion world. They were first worn by the famous fashion designer Coco Chanel, which captured the attention of many beachgoers in the 60s. Since then, designers were creating different types of palazzo pants that can be worn in any type of occasion.
However, before you start wearing these flattering wide-leg pants, there are some fashion rules that you can follow if you really want to rock an ultra-stylish outfit.  We are giving you 6 style tips and tricks that can help you look fabulous and smoking hot in your palazzo pants.
Different Types of Palazzo Pants
Before we give you the six style tips for wearing palazzo pants, you need to know the different types of palazzo pants and the best ways to wear them.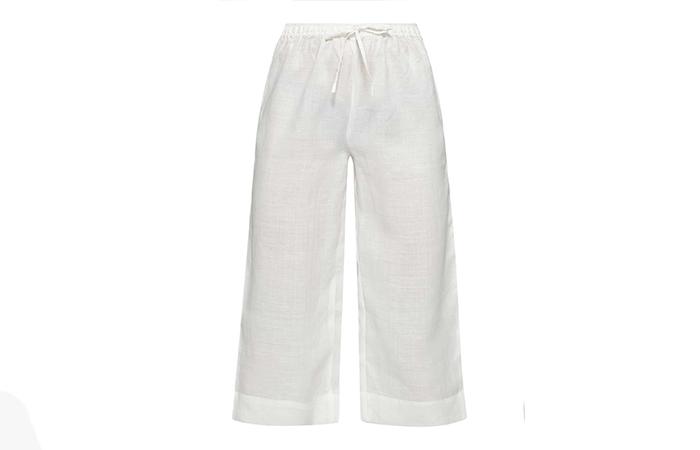 The Straight Cut Palazzo Pants
This is a great choice for those who are still a bit conservative with the flare style of the wide-leg pants. The straight cut is a perfect match with the long or short kurta and it is always a safer bet for women who haven't worn palazzo pants before. Try getting the plain colors or the neutral palette because they can absolutely go with any top. And just like other styles of palazzo pants, this one is very comfortable to wear.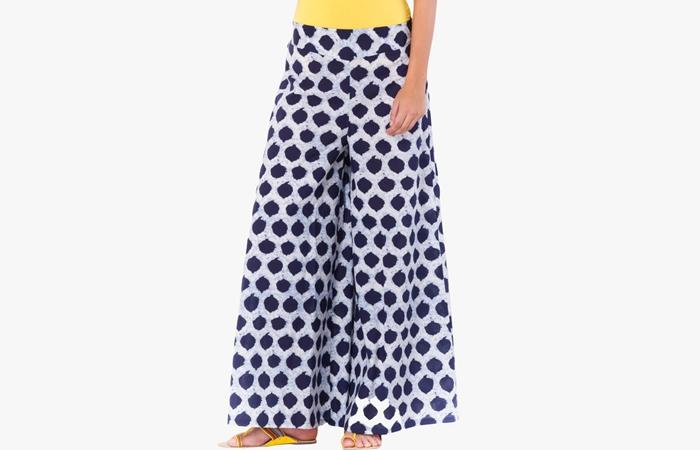 The Flared Palazzo Pants
For those who haven't worn the flared palazzo pants, they may think that it looks weird. However, most of them usually change their mind when they realize how flamboyant and chic it looks when they wear them. This is the type of pants that can go with anything and everything, which makes it a very popular choice for stylish women. If you want a more ethnic and stylish look, you can pair a flared plain-colored palazzo pants with a long printed kurta. It can even be worn with a plain t-shirt and it would still look trendy and hip. In the summer, you can go with a black or white t-shirt or a tank top with your flared palazzo pants. You can take it with you on the beach and wear it as a cover-up.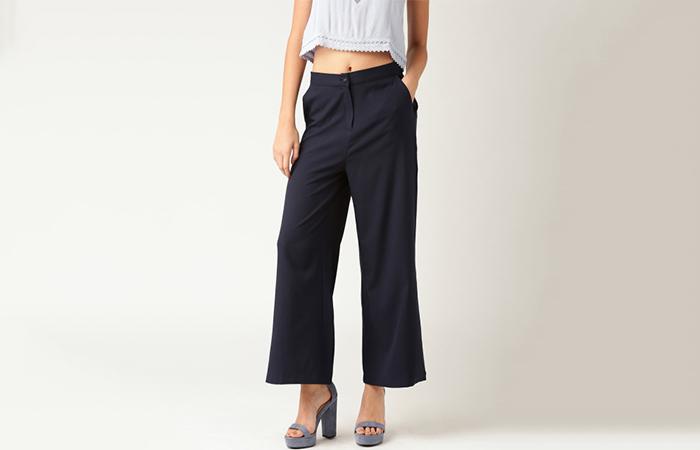 The Palazzo Trousers
You can look professional and stylish at the same time when sporting the palazzo trousers. You can wear them with a formal shirt or a chiffon top with ruffles. If you're wearing a printed palazzo trouser, partner it with a plain top to put more emphasis on the color and prints of the pants. Don't forget that shoes make a lot of difference in your ensemble. You can wear those suede peep-toes or red pumps along with your stylish palazzo trousers.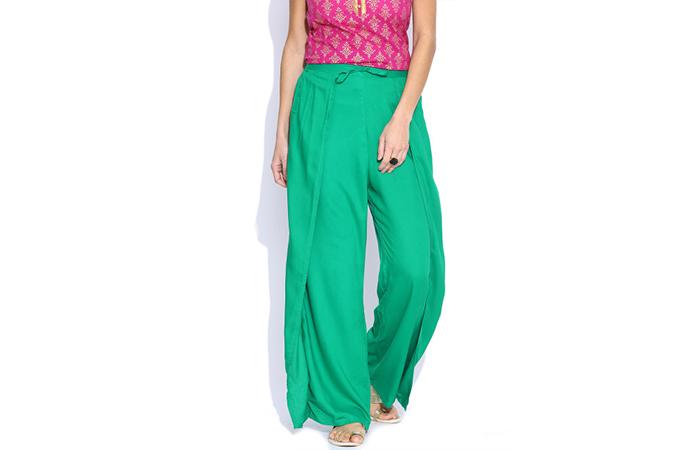 The Layered Palazzo Pants
Messy but stylish is what perfectly describes the layered palazzo pants. This type of wide-leg pants can be worn with any style and occasion. You can dress up or down with the layered palazzo pants and it will always look good on you. One great idea is to wear it with a short sleeveless kurta and sandals for a casual yet very chic look.
Style Tips When Wearing Your Palazzo Pants
Here are a few palazzo pants styling tips that you can try out to make your OOTD or outfit of the day even snappier and hip.
Buy Neutral Colored Palazzo Pants
Not everyone can be adventurous when it comes to wearing wide-leg pants. If you are this type of person, it would be a good idea to have neutral color palazzo pants in your wardrobe. For those who want to be a bit more subdued and conservative with their outfit, just go for neutral shades of palazzo pants such as black, white, olive, navy, or grey. You can try the navy option when you want to go for a more professional look. Olive may also be a good color choice because it has a versatile shade that can match almost every skin tone. For a neutral navy shade, this is perfect for work or a night out with friends.
Tucked-In Top
When wearing your favorite palazzo pants, it would be a good idea to tuck in your top. This helps accentuate your waistline and create a more balanced look, especially since you are wearing wide-leg pants. The last thing you want to happen is to look like you are being drowned in fabrics. Tuck in that top and create a nice silhouette that can even make you look sexier. Many palazzo pants have a tie-front detail, which looks even more stylish when you have a tucked-in top. You want to put more emphasis on the waist and make your top look amazing.
Go for a Monochromatic Look
Monochromatic look means going for one color from head to toe. This styling option is great when you want to look elegant and polished. You can try wearing a black themed outfit with a drapey blouse, palazzo trousers or work-appropriate pants, your favorite pumps, and a gorgeous belt. This cool monochromatic look may look simple and subdued but it is oozing with elegance and style.
Try the Cropped Style
More women today are sporting the cropped jeans, jumpsuits, and pants. You can try out this cropped style with confidence by wearing a simple tie-front denim palazzo pants, The tie-front detail will accentuate your waist, creating a flattering silhouette.
Focus On the Fabric
It may be overwhelming for most women when buying their palazzo pants because there are so many options. The best way to overcome this issue is to focus on the fabric. Women who are more conscious about their figure should go for the flowy design such as the georgette or crepe. For petite women, it's a great idea to go for the cotton and flared palazzo pants.
Palazzo Pants for Petite Women
Palazzo pants look great both for tall and petite women. It's not true that palazzo pants are only meant for taller women. If you are on the petite side, go for the palazzo pants with a shorter length and has the right hemline and try to avoid the ones that are too flared. You should also wear those sexy heels to look even more stylish.